Beaded Bezels and Captured Cabochons


August is shaping up to be a busy, busy month!
I have several classes coming up at my studio. First up is
Capturing Cabochons
, this Saturday, August 7. Stitch a beaded bezel using right angle weave and peyote stitch. I'll also show variations with random right angle weave.
Samples for Dyeing the Rainbow and Creative Play


August 22-24 I'm hosting a three-day Dye Camp, with a different focus each day.
Day 1 is
Dyeing the Rainbow
, focusing on careful measurements to create reproducible colors.
Day 2
focuses on a variety of surface design techniques including dye painting and simple shibori.
Day 3 is a completely freeform, open studio day if you simply want to play with dyes.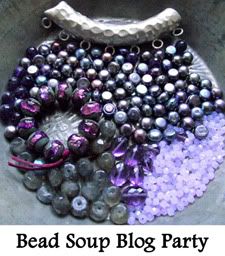 And today through Wednesday, swing by
Pretty Things
to sign up for Lori's
Bead Soup Blog Party
!
It's an amazing amount of fun and I highly recommend it! My swap partner last time was the ever-so-talented
JJ Jacobs
, the
package
she sent was stunning, and I had a great time coming up with my
design
. And the blog hop reveal was pure
inspiration
.
Beyond that, I'm thinking about class submissions for Fusion Beads winter schedule, and an artist friend has almost talked me into participating in the Uptown Art Stroll at the end of August.
I've never had a booth at an art festival and am really not sure that I can make enough inventory between now and then. But I'm considering.... Those of you who do art festivals, what sort of price ranges do best?